October 27, 2005
051027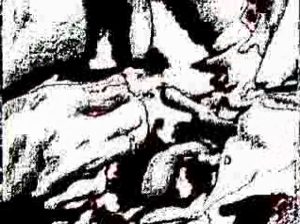 051027.mov
I sunk my eyes in static.
Posted by philip at October 27, 2005 02:29 PM
Comments
nice movie-art, I love it... i enjoyed my stay
;-)
Posted by: channel zero at November 15, 2005 04:32 PM
Hi there,
I owe you a debt of thanks. Long story short. I put a movie called "clown porn" on my website, it went slightly viral and I got clobbered with bandwidth fees. Sadness. Later, a friend directed me to destroyhotaction. He thought he was giving me bad news, i.e. "you've been scooped." But, no. The good news was that through your site I discovered vlogging. So, love the site, and much thanks. And keep and eye out for clown porn, I think you'll like it.
Rob
Posted by: rob parrish at November 18, 2005 09:49 PM
This one is great. It sounds a bit like a whale gargling :-)
Posted by: Anonymous at January 27, 2006 12:29 PM